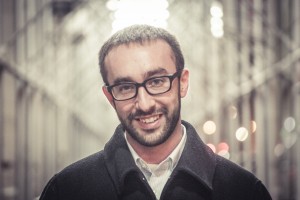 Hi. I'm a senior staff editor at The New York Times, where I've been hanging out since June 2012. I spent two years on the social media desk, then I wrote the thingies for Watching, a breaking news aggregation feature on the nytimes.com home page. Now I'm a reporter without a beat or a section, roaming the Internet for stories that would resonate with our readers then contributing our own original reporting and additional context. It's new for us and I have no idea how to explain it.
That's probably all you really wanna know. But if you're curious: I was the social media editor at ProPublica, a non-profit newsroom focused on investigative journalism. Before that I launched a hyperlocal site for Philly.com and the Philadelphia Inquirer. I was a community host for TBD, a website/TV station that covered local news and sports in Washington, D.C. I also spent four years as a reporter for The (Harrisburg, Pa.) Patriot-News, I wrote for the Centre Daily Times while attending Penn State, and enjoyed a summer internship at The Wichita (Kan.) Eagle.
My career has largely been focused on using social media and the power of networks to improve reporting/storytelling. Here are some examples of what I mean by that.
What's with that Watching thing? What does breaking news aggregation mean?
We're monitoring the web looking for stories that are breaking, developing or otherwise timely. When we find them, we present them in brief and link directly to them, even if they happen to take you to our competitors' sites. It's a lot of fun, and readers have appreciated it. You can see it on the nytimes.com home page any time during the week, though it's taken down Saturday and Sunday.
What does a social media staff editor do?
Not just tweet all day! I ran @nytimes one day per week and otherwise worked with the Metro, Sports and Business desks on crowdsourcing projects, strategy, social-based reporting, training and any other social needs of the newsroom. When we sought to involve our readers in the reporting process — and we often do — I made sure it was done well.
Elsewhere:
Sometimes people ask me what I think about things, or say that they like what I think about things, or let me think things on a different website.
03/26/13: Hashtags considered #harmful
Nieman Lab
08/28/12: Journalist of the Day: NYT's Daniel Victor talks about social media
Muck Rack
08/09/12: Daniel Victor found an opportunity in social journalism (audio)
Prologue Profiles
06/05/12: Career lessons from Daniel Victor's swift ascent
The Buttry Diary
06/05/12: New York Times' latest hire part of evolving social media team
Poynter Online
03/22/12: Broadcasters don't want to put campaign ad data online, so ProPublica pitches work-around
Nieman Lab
10/24/11: Aggregation and tips from neighbors drive Philly.com's new community news site
Nieman Lab
10/20/11: 4 questions with ProPublica's new social media editor
10000 Words
05/27/11: Whiskey Chats: Daniel Victor, Community Engagement of Philly.com (audio)
Technically Media
03/21/11: Thanks to Dan Victor and Lisa Rowan for their excellent contributions to TBD
The Buttry Diary
03/21/11: Lessons from risking it all for a journalism start-up that fails
10,000 Words
02/21/11: How journalists are using metrics to track the success of tweets
Poynter.org
Winter 2010: Community host: An emerging newsroom 'beat' without a guide
Nieman Reports
05/19/10: To get TBD spot, community host Daniel Victor worked through failures and a misplaced e-mail
TBD.com
03/06/09: Who wants to be Daniel Victor's assignment editor?
Beatblogging.org
01/08/09: The community-directed reporter: Daniel Victor gears up to go mojo
Invisible Inkling
07/03/08: Audio interview with Daniel Victor about his Ning experiences
Beatblogging.org