We saw a small but significant milestone at Philly.com this morning.
Should you have visited the site between roughly 10:15 a.m. and 11:10 a.m. this morning, you would have seen this: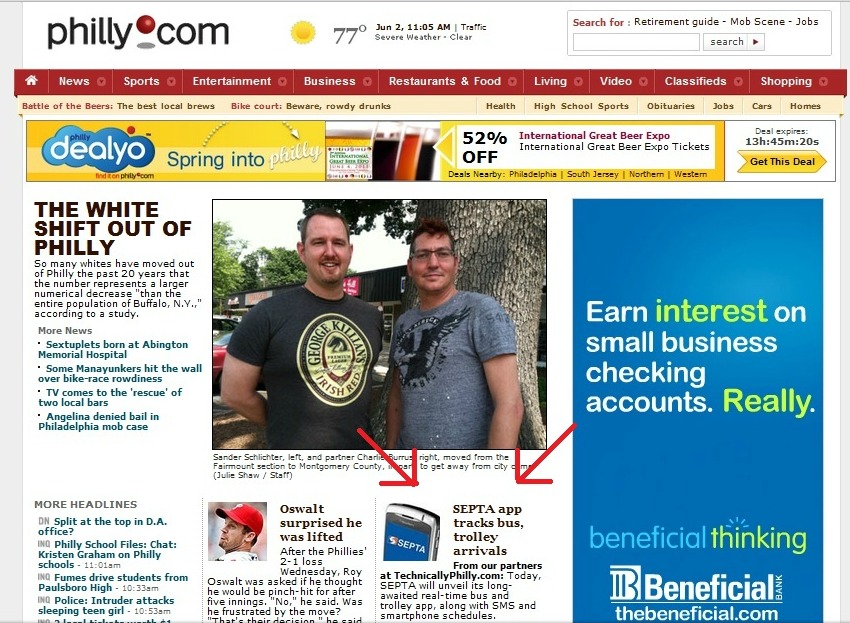 It's significant because this is the first time Philly.com has directly linked to an external blog from a prominent spot on its home page, taking readers directly off the site. According to Technically Philly's Christopher Wink, it netted them over 600 referrals, which passed Reddit and Hacker News as the most single-day, single-source referral traffic they've ever received.
A quick sausage-making recap: Wink alerted me via Twitter to a post that looked like it would have mainstream appeal. I agreed and sent an e-mail to our team of web producers. They agreed to offer up the valuable real estate in a way the site historically hasn't done.
No, I don't expect a party to be thrown in our honor. I know some people will roll their eyes and make comments about it being 1998 and such.
But this is a clear step toward opening Philly.com's gates, which is something people like Wink have been waiting for us to do. I'm not rolling out any Mission Accomplished banners, as there is a looong way to go, but it's great to see a tangible step.
If you'd like to debate the merits of this, or how success will be defined with such an approach, let's feel free to discuss it in the comments.