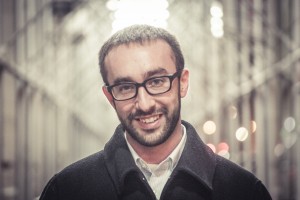 Hi. I'm a social media staff editor at The New York Times. I was the social media editor at ProPublica, a non-profit newsroom focused on investigative journalism. Before that I launched a hyperlocal site for Philly.com and the Philadelphia Inquirer. I was a community host for TBD, a website/TV station that covered local news and sports in Washington, D.C. I also spent four years as a reporter for The (Harrisburg, Pa.) Patriot-News, I wrote for the Centre Daily Times while attending Penn State, and enjoyed a summer internship at The Wichita (Kan.) Eagle.
I focus on using social media and the power of networks to improve reporting/storytelling. Here are some examples of what I mean by that.
What does a social media staff editor do?
I run @nytimes one day per week and otherwise work with the Metro, Sports and Business desks on crowdsourcing projects, strategy, social-based reporting, training and any other social needs of the newsroom. If we seek to involve our readers in the reporting process — and we often do — I make sure it's done well.
Elsewhere:
Sometimes people ask me what I think about things, or say that they like what I think about things, or let me think things on a different website.
03/26/13: Hashtags considered #harmful
Nieman Lab
08/28/12: Journalist of the Day: NYT's Daniel Victor talks about social media
Muck Rack
08/09/12: Daniel Victor found an opportunity in social journalism (audio)
Prologue Profiles
06/05/12: Career lessons from Daniel Victor's swift ascent
The Buttry Diary
06/05/12: New York Times' latest hire part of evolving social media team
Poynter Online
03/22/12: Broadcasters don't want to put campaign ad data online, so ProPublica pitches work-around
Nieman Lab
10/24/11: Aggregation and tips from neighbors drive Philly.com's new community news site
Nieman Lab
10/20/11: 4 questions with ProPublica's new social media editor
10000 Words
05/27/11: Whiskey Chats: Daniel Victor, Community Engagement of Philly.com (audio)
Technically Media
03/21/11: Thanks to Dan Victor and Lisa Rowan for their excellent contributions to TBD
The Buttry Diary
03/21/11: Lessons from risking it all for a journalism start-up that fails
10,000 Words
02/21/11: How journalists are using metrics to track the success of tweets
Poynter.org
Winter 2010: Community host: An emerging newsroom 'beat' without a guide
Nieman Reports
05/19/10: To get TBD spot, community host Daniel Victor worked through failures and a misplaced e-mail
TBD.com
03/06/09: Who wants to be Daniel Victor's assignment editor?
Beatblogging.org
01/08/09: The community-directed reporter: Daniel Victor gears up to go mojo
Invisible Inkling
07/03/08: Audio interview with Daniel Victor about his Ning experiences
Beatblogging.org