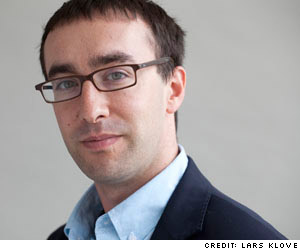 Short version:
Daniel Victor is a social media producer at The New York Times. He was the  social media editor at ProPublica, a non-profit newsroom focused on investigative journalism. Before that he launched a hyperlocal site for Philly.com, the online home of the Philadelphia Inquirer and Daily News. He was a community host for TBD, a website/TV station that covered local news and sports in Washington, D.C. He also spent four years as a reporter for The (Harrisburg, Pa.) Patriot-News, he wrote for the Centre Daily Times while attending Penn State, and enjoyed a summer internship at The Wichita (Kan.) Eagle.
He focuses on using social media as a core part of the reporting process in a responsible manner. He does not take himself too seriously, so writing in the third person feels very strange to him.
Longer version:
It all started with a cute girl in his ninth-grade journalism class.
He had zero interest in the class. He did have interest in her, though. So when she begged him to join her on the newspaper staff the following year, he had no choice but to follow.
They eventually had a one-week romance, ending with her dumping him for his best friend, but he forgave her. Because of her he had discovered, quite by accident, that this journalism thing wasn't so bad.
As a reporter at The Patriot-News, he quickly became aware of the concept that would guide all of his future work: His readers were a lot smarter than he was. In 2008, he created a small social network around his municipal beat, tipping members off to in-progress stories so he could solicit feedback and sources. Combined with his early use of Twitter, he got a taste of how networks could improve his reporting.
That eventually led him to the social media branch of journalism, but he likes to make clear: He's a journalist first, and a social media guy a very distant second. He wouldn't be able to accomplish nearly as much in social media without applying the experience from his four years as a print reporter. He thinks of social not merely as that stuff you do to promote your stories on Facebook and Twitter, but as a mindset shift that enables journalists to find better information and better sources. Sometimes that will happen on Facebook and Twitter, but there's a lot more to it than that.
With this blog, he seeks to offer real-life, actually-doing-it, not-just-talking-about-it examples of how journalists can be using social techniques to improve their stories, uncover new stories, and create better relationships with various communities.
He reiterates that writing in third-person is awful. He should change this to first-person someday.
Elsewhere:
Sometimes people ask me what I think about things, or say that they like what I think about things, or let me think things on a different website.
08/28/12: Journalist of the Day: NYT's Daniel Victor talks about social media
Muck Rack
08/09/12: Daniel Victor found an opportunity in social journalism (audio)
Prologue Profiles
06/05/12: Career lessons from Daniel Victor's swift ascent
The Buttry Diary
06/05/12: New York Times' latest hire part of evolving social media team
Poynter Online
03/22/12: Broadcasters don't want to put campaign ad data online, so ProPublica pitches work-around
Nieman Lab
10/24/11: Aggregation and tips from neighbors drive Philly.com's new community news site
Nieman Lab
10/20/11: 4 questions with ProPublica's new social media editor
10000 Words
05/27/11: Whiskey Chats: Daniel Victor, Community Engagement of Philly.com (audio)
Technically Media
03/21/11: Thanks to Dan Victor and Lisa Rowan for their excellent contributions to TBD
The Buttry Diary
03/21/11: Lessons from risking it all for a journalism start-up that fails
10,000 Words
02/21/11: How journalists are using metrics to track the success of tweets
Poynter.org
Winter 2010: Community host: An emerging newsroom 'beat' without a guide
Nieman Reports
05/19/10: To get TBD spot, community host Daniel Victor worked through failures and a misplaced e-mail
TBD.com
03/06/09: Who wants to be Daniel Victor's assignment editor?
Beatblogging.org
01/08/09: The community-directed reporter: Daniel Victor gears up to go mojo
Invisible Inkling
07/03/08: Audio interview with Daniel Victor about his Ning experiences
Beatblogging.org