…it wasn't getting dates. I swear it.
It really was about infusing reader contributions into the reporting process.
The idea started as a feature that would land on Valentine's Day about single life in D.C, complete with bells and whistles and whosits and whatsits. I'd conduct a month's worth of interviews, so this thing was really going to rock hard.
But if you're going to spend a month reporting on something, limiting yourself to one big burst of content is a mistake in a lot of ways. I approached each element of the bigger story as a stand-alone piece, publishing one or two stories per week. When I interviewed a local dating blogger, I immediately wrote it up instead of sitting on it for the next month. I did the same as I interviewed online daters, speed daters and attended a conference of pickup artists (you've got to read that one if you haven't). I ended up with six stand-alone pieces, including the final story that ran on Valentine's Day.
All of this makes it sound like it was a reporting project. Yet my business card says I'm a "community host," not a "reporter." I wasn't hired primarily to be a direct content producer; I was hired to bring our readers/users into the news process. So I like to think of it more as an engagement project, and an example of how the best springboard to engagement is – gasp – original reporting. Every bit of original reporting I did had a prompt for readers attached to it.
I always come back to this brilliantly simple graphic, originally conceived by The Guardian's Meg Pickard and recreated by Joy Mayer: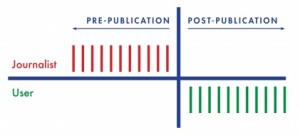 The traditional story structure says that the reporter does all of the work pre-publication, interviewing and gathering information, before bowing out upon publication. Then the readers take over, discussing amongst themselves to what extent the other readers are idiots. (Mostly joking.)
We engagement types like working in those empty two quadrants. I want to get readers involved in my story before it's published, publicly soliciting information that would be useful for all to hear. Then I want to participate in the discussion after publication, seeing how I can aid that discussion with my prior reporting while looking for readers' knowledge that could inform future stories on the subject.
Now let's say we succeed in filling in those empty two quadrants. Our new graph looks like this: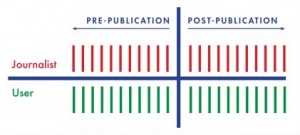 Now, that blue "publication" line becomes irrelevant, because you could put it anywhere in the graph and it'd look just the same. Then "publication" becomes merely the point when the journalist decides to tackle the topic. In a living story, there shouldn't be a wall between pre- and post-publication.
So how'd I use that principle with this dating series? Well:
At the end of my first story about a dating blogger, I put out a call for online dating stories. Since that first story got solid traction, more people were exposed to that call than had I simply tweeted a few requests, e-mailed some friends or invaded OkCupid.
About a dozen people contacted me because of that, and they became the basis of my next story. At the end of that one, I renewed my call for more online dating stories.
Due to that request, I was overwhelmed with great anecdotes, so those anecdotes became a stand-alone story.
Since every story is mentioning that it's one part of a longer series, momentum was building for the pickup artists story, which ended up getting significant viral attention (thanks Jezebel). And that continued to bring attention to my final stories about speed dating and lessons learned.
You also have to think of the more practical elements that'll make anyone who likes page views happy. Consider:
The pickup artists story, which required just two days of reporting but ended up at about 3,600 words, got far more traffic than the end result on February 14. Had I condensed that reporting so it'd fit into that later story along with everything else, it surely wouldn't have gotten as much traffic.
One of the pickup artists/dating coaches I featured had allowed the Washington Post to follow him around over several months for a story that would run Valentine's Day weekend. That reporter couldn't have been happy to know that I was able to post my story just three days after my reporting was complete – two weeks before her story was published. By not waiting until the end, I scooped the Post on a story they had gotten to long before I did.
Instead of one chance to collect pageviews, you now have five chances. Instead of one chance to go viral, you now have five chances.
Giving our readers original content was the nudge they needed to later contribute. Simply saying "gimme gimme gimme" isn't enough to get people involved. I gave them something they'd enjoy, and then asked for help on the next one.