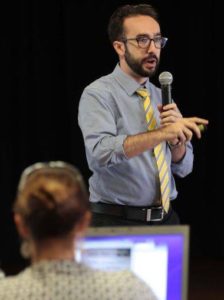 I've traveled throughout North America to deliver training sessions to groups of journalists, and I'm happy to do it more. Please get in touch if you're interested.
Here are the areas I have most often covered:
Social media reporting: Using social media to locate hard-to-find sources, identifying witnesses in breaking news, verifying what you find, best practices for crowdsourcing.
Social media reach: Establishing the different approaches needed for each individual platform, explaining why people share stories and why people follow journalists, offering specific tips to increase retweets/followers/clicks, discussing how much time to devote to emerging sites/tools/apps.
Alternative story formats: How to kick the instinct to write a traditional story every time, identifying which stories are crying out for a different approach, why readers benefit, and how to deliver different formats in a way that isn't dumbed down or inartful.
Breaking news: How to form a newsroom-wide plan (and wish-list) for breaking news situations, considering which corners of the digital presentation are most likely to be cut, and which ones shouldn't be.
As I go through these presentations, I always aim to:
– Leave the buzzwords behind, bolstering my case instead with examples and statistics
– Offer advice that can be applied to newsrooms of any size, recognizing the needs and limitations of smaller publications
– Make sure attendees leave with specific, actionable takeaways
– Mix basic and advanced tips, never leaving the beginners behind while giving more experienced trainees something new
– Recognize that everyone's time and attention is limited, and "do more" is not always the right advice
– Throw in some jokes and levity so you're not totally bored.
My training experience includes:
Associated Press Media Editors (2015-present): Through APME's NewsTrain program, I've given social media and breaking news presentations to journalists in Monroe, La.; Lexington, Ky.; Lincoln, Neb.; Halifax, Canada; Norman, Okla.; and Beverly, Mass.
Lenfest Institute (2017): I taught alternative story formats to most of the journalists at the Philadelphia Inquirer and Daily News over three days.
The New School (2014-2016): Embedded guest instructor in beginner journalism courses, with a focus on the basics of social media.
Knight Center for Journalism in the Americas (2014): I taught a five-week MOOC about social media for 6,300 journalists from 149 countries.
Guest lectures: Countless appearances in college classrooms, in person and by Skype.
And now I'll blush as I pass on the following praise, gleamed from anonymous feedback forms of NewsTrain attendees:
"Loved Daniel Victor….Tips that were easy to put into effect immediately."
"Extremely informative."
"New to me and very effective/useful."
"Smart and knowledgable…no jargon."
"Daniel Victor killed it."
"I have used lists and TweetDeck on and off but I will give it more of a chance after Daniel Victor's presentations."
"Social media — I needed a raw breakdown of the different platforms. I now have my start and am more comfortable to start experimenting."
Those attendees rated my most recent session on social media reporting on a five-point scale, and gave me a 4.91 for content and 4.85 for presentation. (I've been told these are high marks.)
Once again, please get in touch if I can help.